We match you to employers using the skills you have and want to use in your next career.
This is why it is important for you to keep up to date with new skills that have been added to CATE, what we affectionately call our platform.
CATE will use your skills to match to current career profiles in our platform.
Remember, we do not scrape jobs off of the internet. The careers on our platform are from active employers looking to find skilled talent.
Take a look at some of the new skills you can add to your profile:
Prototype Development
Integrated Circuit Testing (ICT) / Boundary-Scan Test (BSCAN)
Original Design Manufacturing (ODM)
Contract Electronics Manufacturing Services (CEMS)
Original Electronics Manufacturing (OEM)
Joint Development Manufacturing (JDM)
Electrical Power Monitoring Systems (EPMS)
Branch Circuit Monitoring (BCM)
Building Automation Systems (BAS)
Design Thinking
Human-Centered Design
SFMC Suite (Email Studio/Mobile Studio/Web Studio)
Tasking Collection Processing Exploration Dissemination (TCPED)
PADI (Professional Association of Dive Instructors) Certified
Music Composition
Aural Training
Knowledge of Rhythmic Elements
Databricks
Alteryx
Data Visualization Tools
Power BI
Adobe Illustrator
Adobe Photoshop
UI/UX Design
Industrial Controls Systems (ICS)
Service Engineering
Systems Engineering
Computer Science
Software Engineering
Network Engineering
Battery Monitoring Systems (BMS)
Git
Shiny
Kusto
Prometheus
Business Intelligence (BI)
Have you adjusted your salary?
When you add your salary to your profile, use the hourly wage you are looking for. We will calculate what that annual salary looks like underneath.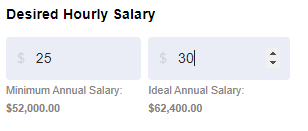 Need help building your profile?