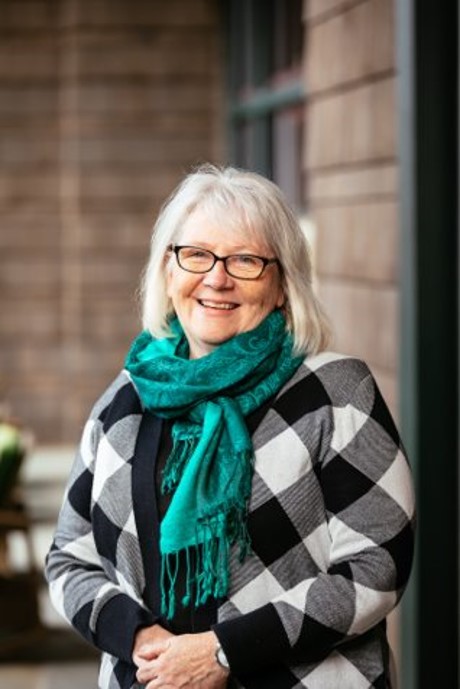 According to the Small Business Administration (SBA), there are approximately 2.5 million Veteran Owned Businesses in the United States, which represent nearly 10% of all businesses. These businesses generate more than $1 trillion in annual revenue and employ over 5 million workers. Furthermore, Veteran Owned Businesses have been shown to outperform non-veteran-owned businesses in terms of revenue growth and job creation.​
​With Invest In Veterans week starting off this 
month, you can't go wrong investing in veteran owned businesses. Shop them. Refer others to them. Be a mentor or contribute in any way you can to their success. We all benefit.
As a veteran owned business and a woman in business, this is a significant month for me. So many inspirational women have paved the path before me to open opportunities for me and other women to be successful and for us to pave the path for the next generation. I am humbled and blessed. "Life is not measured by the number of breaths we take, but by the moments that take our breath away." – Maya Angelou​
I encourage you to take some time this month for yourself, with your family, especially children and learn about some great women in history. Grace Hopper, Naomi Parker, Rosa Parks, and Dorothy Vaughn. I am confident, the moments will take your breath away.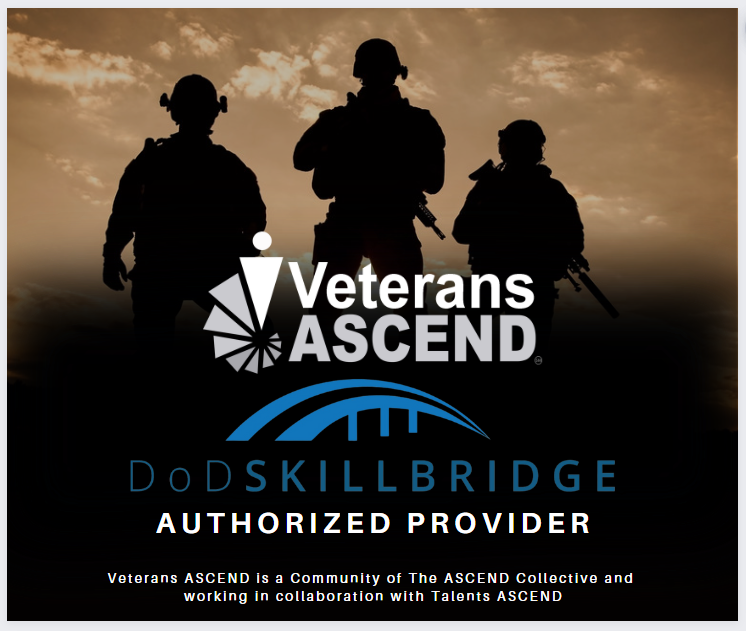 Veterans ASCEND is now an approved
DOD Skillbridge provider​
​Veterans ASCEND is a Community of The ASCEND Collective and is working in collaboration with Talents ASCEND to provide our service members with civilian career experience prior to their exit from the military.​
​"For Service members SkillBridge provides an invaluable chance to work and learn in civilian career areas. For industry partners SkillBridge is an opportunity to access and leverage the world's most highly trained and motivated workforce at no cost. Service members participating in SkillBridge receive their military compensation and benefits, and industry partners provide the training and work experience.​
​SkillBridge is an excellent benefit for installation and Unit Commanders who have members about to be discharged from Active Duty. SkillBridge can help Service members bridge the gap between the end of service and the beginning of their civilian careers. Commanders can greatly ease this return to civilian life by supporting their reports' interest in SkillBridge.​
​When mission permits, Commanders who support SkillBridge participation are helping their personnel find a civilian career with a trusted employer.​
​Service members can be granted up to 180 days of permissive duty to focus solely on training full-time with approved industry partners after unit commander (first O-4/Field Grade commander in chain of command) provides written authorization and approval. ​
​These industry partners offer real-world training and work experience in in-demand fields of work while having the opportunity to evaluate the Service member's suitability for the work." – Department of Defense ​
​Learn more about our SkillBridge opportunities at https://theascendcollective.org/skillbridge/ ​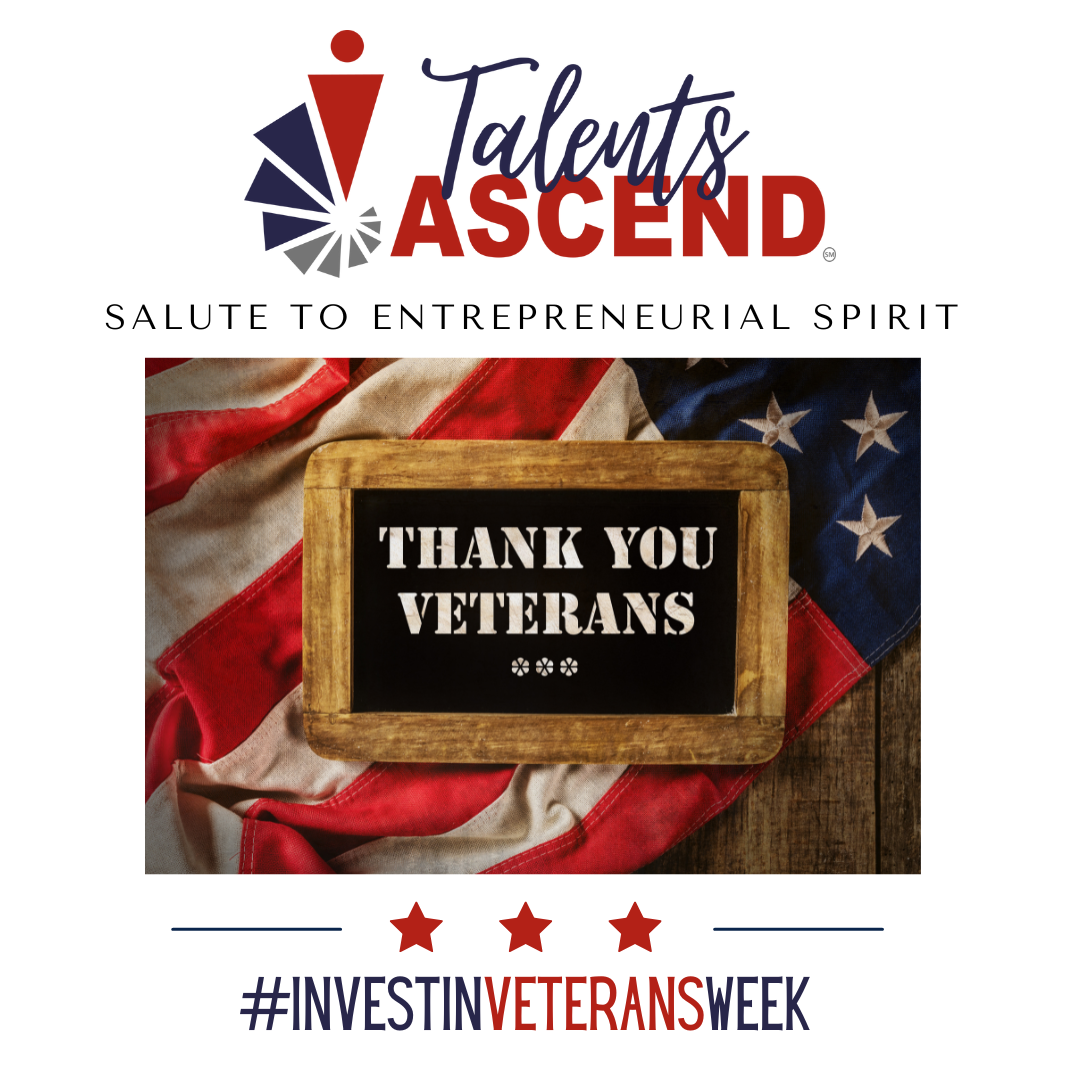 ​National Invest in Veterans Week is a week-long celebration of the contributions and sacrifices of America's unwavering Veteran Entrepreneurs.​
​Here are some ways to celebrate the week and recognize veteran entrepreneurs. ​
​Buy from Veteran-Owned Businesses.​
Promote Veteran-Owned Businesses on Social Media.

​

Partner with a veteran-owned business.

​

Host a webinar for aspiring veteran entrepreneurs.

​

Support Veteran Startups through fundraisers, grants, and services. 

​

Organize a networking event of Veteran-Owned Businesses.

​

Be a mentor, sometimes your knowledge is the most valuable resource you can offer. 

​
Talents ASCEND is proud to be a Veteran Owned Business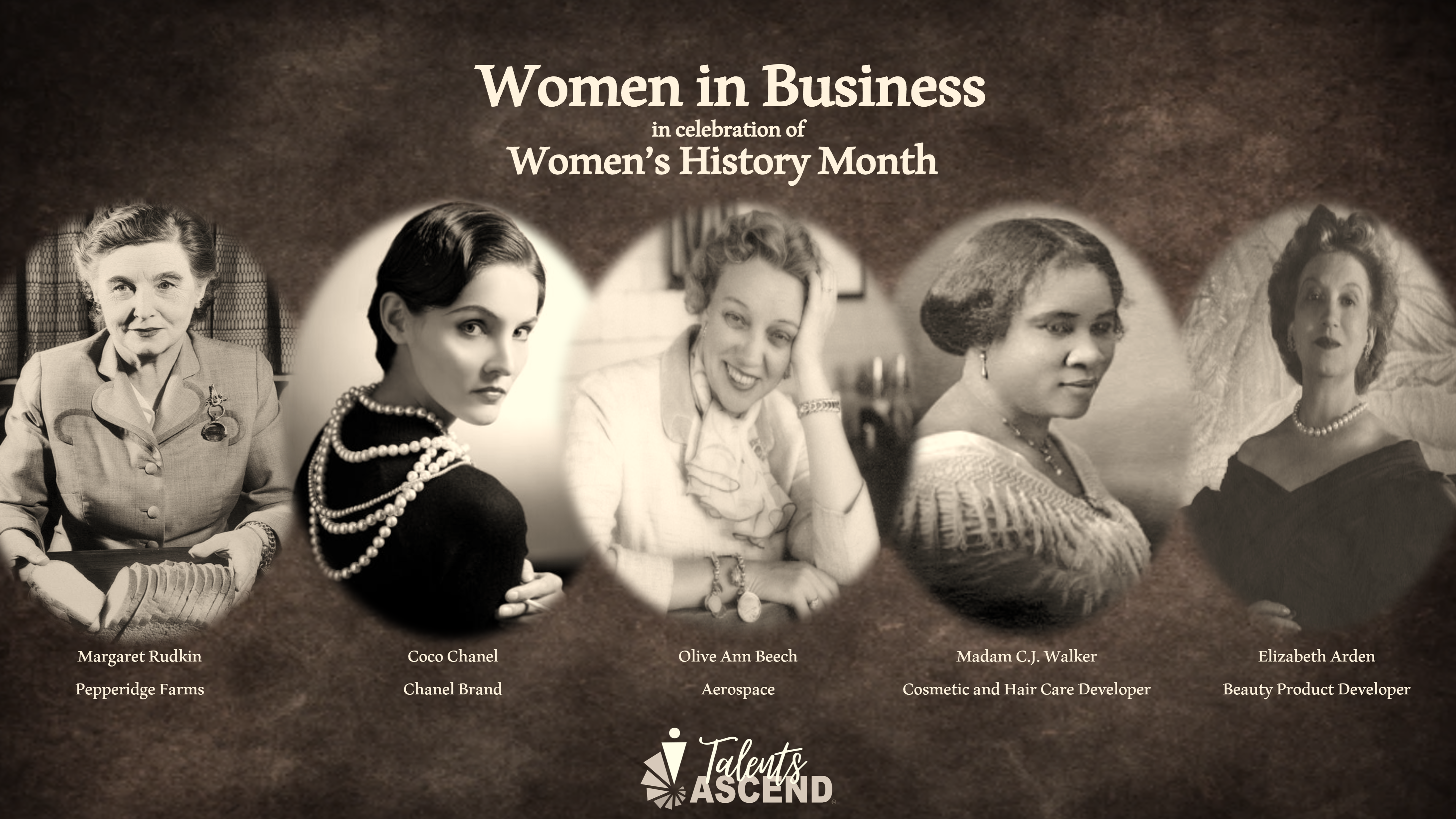 In celebration of Women's History Month, we want to celebrate the successful women in business, women who have made a difference and set an example throughout history. ​
​Margaret Rudkin began making stone-ground wheat at her family's farmhouse in Connecticut for her son, who suffered with asthma and food allergies. Soon her son's doctor, initially skeptical, was prescribing her bread to other patients and her husband was carrying loaves on the train to New York to be sold at specialist grocers. By the end of 1939, Rudkin had sold more than a million loaves and featured in Reader's Digest. In 1940, she moved her business from her garage to its own factory, adding cookies to her range a decade later. She sold the business to Campbell Soup for $28 million in 1961 and was the first woman to serve on Campbell's board of directors.​
​Coco Chanel was raised in a Catholic orphanage where she learned to be a seamstress, Chanel went on to become one of the world's best-known fashion designers. She opened her first millinery store in Paris in 1910, according to The Biography Channel, and by the 1920s was known as a style icon. In 1922, she launched her most famous fragrance Chanel No. 5, which remains a favorite for millions of women. Chanel worked up until her death in the Ritz Hotel at the age of 88, and her name is still carried on fashion, fragrances, jewelry, and watches.​
​Olive Ann Beech Co-founded Beech Aircraft Corporation and helped to create a multimillion-dollar aerospace business. Working alongside her husband, the business grew from 10 employees to 10,000. Known as the "First Lady of Aviation " she earned more awards than any other women in aviation history. She also produced some of the most popular aircraft of the 20th Century.​
​Madam C.J. Walker was the creator of "Madam Walker's Wonderful Hair Grower and is said to be the first black female millionaire and one of the 20th Century's most successful female entrepreneurs. Suffering from a scalp condition that caused her to lose most of her hair, Walker developed a hair care business that was earning $500,000 a year by the time of her death in 1919. She helped train over 40,000 black women and men in an effort to promote economic independence.​
​Elizabeth Arden opened her first spa in Fifth Avenue, New York, in 1910, hiring chemists to develop her skincare products. By 1922, the company became one of the first global brands, and in 1946, Arden was the first woman on the cover of Time magazine. At the time of her death in 1966, more than 100 Elizabeth Arden Salons were in business worldwide. The company was sold in 1971 for $38 million. Still going strong, the brand took $1.238 billion in revenues in 2012. ​
​Talents ASCEND is proud to be a women owned, Veteran owned business.